Dove Release - The dove has been a symbol of the human soul for decades. They symbolize the soul's ascent to Heaven. White pigeons are used and can add that special touch to a loved one's final farewell. Carter-Ricks Funeral Homes would be happy to arrange this service for you. Costs vary on this service and may be unavailable due to weather.

Balloon Release - Carter-Ricks Funeral Homes can arrange for a bouquet of balloons in a variety of colors according to your preferences. As the balloons drift upward, they leave with us an impression and memory that will last a lifetime. Our staff will coordinate the release ceremony to occur at just the right time in the service.

Bagpiper - The sound of the bagpipe is most commonly associated with the funeral services. The bagpiper adds a solemn and dignified touch to the funeral ceremony. It can also communicate a sense of closure. Bagpipes are a powerful instrument that can bring out the deepest emotions that words fail to reach. Bagpipes can be played at the funeral home, church, or at the cemetery. Costs vary.

Military Honors - There is no better way to honor a person that has served their country than with Military Honors. We have contacts with all of the branches of military and would be happy to arrange this service for you. Military Honors include a gun salute, flag presentation and the playing of taps. You can choose to have all of these honors performed or just specific ones. These honors are generally performed at the cemetery. If you are not attending a cemetery, Military Honors can be done at the funeral home or church.

Video Tributes - Pictures tell a person's life story. We are happy to offer video tributes. All you have to do is bring in the photos and we create a video of your loved one.

Video Taping - Life situations can make it difficult for everyone who wants to attend the services to do so. We offer videotaping of the funeral service so those that those not in attendance can still have a chance to say good bye or for you as a family have a cherished keepsake.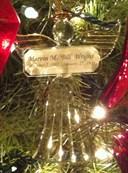 Christmas - Holiday Service of Remembrance - Each year we have a Holiday Service of Remembrance at both Funeral Home facilities in recognition of the loved ones who have died that year. To honor them, each family in attendance will receive a Christmas ornament.