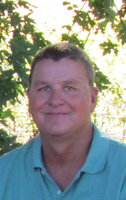 Steven Girard Hoelting
A Mass of Christian Burial for Steven Girard Hoelting of Troy, MO will be held at 10:00 a.m. Thursday, July 11, 2019 at Immaculate Conception Catholic Church in Old Monroe, MO. Father Richard Rath, church pastor, will officiate with burial in Immaculate Conception Cemetery. Serving as pallbearers will be Michael Ilgenfritz, Joseph Ilgenfritz, Allyn Sommerlad, Travis Sommerlad, Eric Tipton, Josh Hoelting and Jimmy Edinger.

Mr. Hoelting, 50, passed away Sunday evening, July 7, 2019 at his home in Troy. Born December 7, 1968 in Troy, he was the son of Allyn Henry and Dolores Ann Reller Hoelting. Steve was a graduate of Buchanan High School. He was employed as a commercial construction laborer and member of Laborers Union Local #660 in St. Charles, MO. Steve was united in marriage on March 23, 2001 in Old Monroe to Julie Ann Murphy. Steve loved sports. He was a member of the Immaculate Conception Catholic Church. Steve was devoted to his wife, Julie and took great care of her and his nieces and nephews.

He was preceded in death by his mother, Dolores Hoelting; and one nephew, Daniel Ilgenfritz.

Survivors include his beloved wife of 18 years, Julie Hoelting of Troy; and his father, Allyn Hoelting of Old Monroe. Steven also leaves two brothers: Jerry Hoelting and his wife, Patty, of Old Monroe and Bill Hoelting and his wife, Lisa, of Moscow Mills, MO; three sisters: Carolyn Sommerlad and her husband, Russell, of Foley, MO, Paula Ilgenfritz and her husband, John, of Old Monroe and Margie Tipton and her husband, Dave, of Moscow Mills; many nieces, nephews and other friends.

Visitation will be held from 5:00 - 8:00:00 p.m. Wednesday, July 10, 2019 at Carter-Ricks Funeral Home in Winfield. Memorials may be made to the Immaculate Conception School Fund (or) Masses in care of Carter-Ricks Funeral Home , 3838 East Highway 47, P.O. Box 253, Winfield, MO 63389.