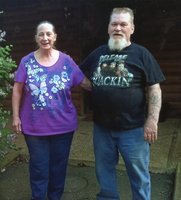 Judymae Anna Griffaw
Visitation for Judymae Anna Griffaw of Winfield, MO will be held from 5:00 - 7:00 p.m. Sunday, July 14, 2019 at Carter-Ricks Funeral Home in Winfield.

Mrs. Griffaw, 67, passed away Saturday, July 6, 2019 at Mercy Hospital in Creve Coeur, MO. Born February 10, 1952 in St. Louis, MO, she was the daughter of Chester and Wilma Goodman Thomas. She was united in marriage on August 25, 2000 in Troy, MO to Charles Griffaw III. She worked as a cookie collector for Daddy Ray's and J&J Snack Foods, retiring in April 2019.

She was preceded in death by her parents, Chester and Wilma Thomas; two brothers: Chester and Dennis Thomas; and her beloved husband of 17 years, Charles Griffaw III.

Survivors include her children: Ida Trehan and her husband, Jim, of Ashland, MO and Stephen Carl of St. Charles, MO; one step-son, Charles Griffaw IV and his wife, Windy, of De Soto, MO; her grandchildren: Cory, Kayla, Heather, Halley, Austin and Ashley; and her great-grandchildren: Adelyn, Parker, Katelyn and Kai. Judymae also leaves one sister, Amanda Thomas of Taylorville, IL; nieces, nephews, other relatives and many friends, including her special friend, Donnie Yates, Jr. of Winfield.

Memorials may be made to the Family of Judymae Griffaw in care of Carter-Ricks Funeral Home , 3838 East Highway 47, P.O. Box 253, Winfield, MO 63389.