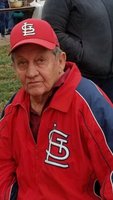 Jerome David Westhoff
Memorial Services for Jerome David Westhoff of Old Monroe, MO will be held at 7:00 p.m. Friday, May 17, 2019 at Carter-Ricks Funeral Home in Winfield, MO. Deacon Neal Westhoff, of Immaculate Conception Catholic Church in Old Monroe, will officiate.

Mr. Westhoff, 77, passed away Saturday morning, May 11, 2019 at Boone County Hospital in Columbia, MO. Born June 21, 1941 in Old Monroe, he was the son of Alex Anthony and Frances Philomene Schipper Westhoff. Jerry was a 1959 graduate of Winfield High School. He worked for Ahal Contracting for many years, retiring on June 1, 2001. Jerry was also a lifelong farmer, retiring in 2007. Jerry was united in marriage on May 25, 1963 in Old Monroe to Judith Ann Miller. This union was blessed with four children: Christine, Jody, Doug and Debbie. Jerry was a member of the Cement Mason's Local #527 in St. Louis, MO and of the Old Monroe Fire Board. He was a longtime member of the Immaculate Conception Catholic Church.

He was preceded in death by his parents, Alex and Frances Westhoff; one sister, Jean Westhoff; one sister-in-law, Joyce Schmuck; one brother-in-law, Chuck Johnson and his beloved wife of 55 years, Judith Westhoff, who died July 9, 2018.

Survivors include his children: Christine Kopff and her husband, James, of Old Monroe, Jody Rodeheaver and her husband, Kirk, of Wright City, MO, Doug Westhoff and his wife, Bonnie, of Troy, MO and Debbie Burkemper and her husband, Carl, of Winfield; thirteen grandchildren: Stephanie Wieberg and her husband, Aaron, Maggie Kopff, Kaitlyn Adler, Dalton Rodeheaver, Dylan Rodeheaver, Karley Rodeheaver, Michael Westhoff, Branden Westhoff, Brett Henke, Bayley Henke, Haleigh Burkemper, Hayden Burkemper and Joey Burkemper; and three great-grandchildren: Judy Mae Wieberg, Lily Evola and McKenna Adler. Jerry also leaves three brothers: Donald Westhoff and his wife, Kathy, of Kirksville, MO, Thomas Westhoff and his wife, Pat, of Montgomery City, MO and Mark Westhoff and his wife, Laura, of Old Monroe; three sisters: Ruth Ann Westhoff of Troy, MO, Elaine Creech and her husband, James L., of Moscow Mills, MO and Carol Jean Cannon of Winfield; one sister-in-law, Jeannie Johnson of Maryland Heights, MO; one brother-in-law, Dwain Schmuck of St. Charles, MO; many nieces, nephews, other relatives and friends.

Visitation will be held from 4:00 p.m. until the time of Memorial Services at 7:00 p.m. Friday, May 17, 2019 at Carter-Ricks Funeral Home in Winfield. The family asks that in honor of Jerome's love for Cardinals Baseball, everyone wear their favorite St. Louis Cardinals outfit. Memorials may be made to Cardinal Care for Kids in care of Carter-Ricks Funeral Home, 3838 East Highway 47, P.O. Box 253, Winfield, MO 63389.