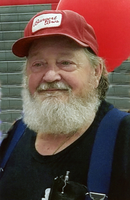 James Marland Trent
A Celebration of Life for James Marland Trent of Winfield, MO will be held at 2:00 p.m. Saturday, June 15, 2019 at the Lion's Club in Moscow Mills, MO. His grandson, Wade Trent will lead the Celebration of Life.

Mr. Trent, 84, passed away Saturday, May 4, 2019 at St. Joseph West Hospital in Lake St. Louis, MO. Born December 25, 1934 in Potts County, Oklahoma, he was the son of James Garfield and Dollie Dimples Poole Trent. James "Trent" was united in marriage on July 26, 1954 in Oxly, MO to Ruby Ester Couch. This union was blessed with eight children: Janet, Dennis, Ronnie, Sheila, Robin, Randy, Gregory and Michael. Trent worked for many years as a welder at Crane National Venders in St. Louis, retiring on May 30, 2006. He was a collector of many things, including "VW Bugs". He enjoyed the Wentzville Flea Market on Sunday mornings, watching old Westerns, camping with the family and taking care of his cats and dogs. Trent was known for his kind blue eyes, soft gentle smile, and his ornery laugh when he would crack a joke!

He was preceded in death by his parents, James and Dollie Trent; five sisters: Betty Lowery, Clara Allen, Marie Buchek, Louise Nolting and Carol Lamunion; one son-in-law, Lonnie Gene Spencer; one son, Gregory Lynn Trent; and one granddaughter, Jaime Lynn Trent.

Survivors include his beloved wife of nearly 65 years, Ruby Trent of Winfield; seven children: Janet Lewis and her husband, Carl, of Gatewood, MO, Dennis Trent and his wife, Pat, of Troy, MO, Ronnie Trent and his wife, Myrna, of Warsaw, MO, Sheila Wright and her husband, Kenny, of Arma, KS, Robin Farris and her husband, Tim, of Doniphan, MO, Randy Trent of Kirkwood, MO, and Michael Trent of Winfield; and their pets: Bella, Smokey, Coby and Shadow. He also leaves twenty-eight grandchildren, sixty-four great-grandchildren and six great, great-grandchildren; one brother, Charlie D. Trent of Belize; several nieces, nephews, other relatives and many friends.

Memorials may be made to the American Cancer Society in care of Carter-Ricks Funeral Home , 3838 East Highway 47, P.O. Box 253, Winfield, MO 63389.