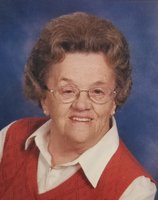 Catherine Mary Reller
A Mass of Christian Burial for Catherine Mary Reller of Old Monroe, MO will be held at 10:00 a.m. Saturday, May 11, 2019 at Immaculate Conception Catholic Church in Old Monroe. Fr. Richard Rath, church pastor, will officiate with burial in the Immaculate Conception Cemetery. Serving as pallbearers will be Bill Hoelting, Jerry Hoelting, Steve Hoelting, Don Reller, Jeff Reller, Tim Reller, Kevin Reller and Dave Reller.

Ms. Reller, 85, passed away early Wednesday morning, May 8, 2019 at Mercy Hospital Lincoln in Troy, MO. Born September 24, 1933 in the family home, she was the daughter of William Bernard and Coletta Ann Burkemper. Catherine was a 1951 graduate of Buchanan High School. She worked as a bookkeeper for many years for Mississippi Valley Stockyards, International Shoe Company and Infintech. A lifelong member of the Immaculate Conception parish, Catherine was a member of the Ladies Sodality and a money counter. She loved to do embroidery, gardening, flowers, host dinners and pass the time playing cards. Catherine was a loving babysitter to her seventeen nieces and nephews.

She was preceded in death by her parents, William and Coletta Reller; one sister, Dolores Hoelting; three brothers: Leonard Reller, Donnie Reller, and Billy Reller as an infant; and one brother-in-law, George Kent.

Survivors include one sister, Helen Kent of St. Louis; two brothers: Wilfred Reller and his wife, Irene Sullivan, of Golden, CO and John Reller and his wife, Joyce, of Old Monroe; one sister-in-law, Ginny Reller of Old Monroe; and one brother-in-law, Allyn Hoelting, also of Old Monroe. Catherine also leaves numerous nieces, nephews, other relatives and friends.

Visitation will be held from 3:00 – 7:00 p.m. on Friday, May 10, 2019 at Carter-Ricks Funeral Home in Winfield; and again from 9:00 a.m. until the time of Funeral Mass at 10:00 a.m. Saturday, May 11, 2019 at Immaculate Conception Catholic Church. Memorials may be made to the IC Building Fund in care of Carter-Ricks Funeral Home , 3838 East Highway 47, P.O. Box 253, Winfield, MO 63389.