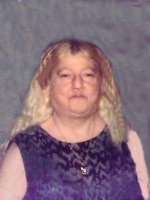 Jo Ann Howarth
Funeral Services for Jo Ann Howarth of Bellflower, MO will be held at 2:00 p.m. Saturday, March 30, 2019 at Carter-Ricks Funeral Home in Elsberry. J. Larry Carter of Carter-Ricks Funeral Homes, will officiate with burial in the Elsberry City Cemetery. Serving as pallbearers will be Steve Howarth, Richard Deak, Dylan Deak, Luke Deak, Aaron Craven, Raymond Grindstaff, Todd Smith and Shane Finch.
Ms. Howarth, 63, passed away Tuesday afternoon, March 26, 2019 at St. Joseph Hospital, West in Lake St. Louis, MO. Born March 1, 1956 in Louisiana, MO, she was the daughter of Albert Cordell "Cord" and Nettie Lucille Creech Shaffer. Jo Ann was united in marriage on August 9, 1969 in Elsberry to Steven Charles Howarth and they were blessed with two children, Steven and Betsy. They were married for three years before he died while serving his country in Vietnam on December 31, 1972. Jo Ann was the glue that held the family together. She loved to go "junking" and her animals held a special place in her heart.
Jo Ann was preceded in death her parents, Cord and Nettie Shaffer; her husband, Steven Howarth; one sister, Mae Ellen DeGeare; and one grandson, John Deak.
Survivors include one son, Steven Howarth and his wife, Patty, of Bellflower; one daughter, Betsy Deak and her husband, Perry, also of Bellflower; eight grandchildren: Amanda, Steven, Jr., Heather, Perry, Jr., Richard, Dylan, Luke and Angel; and five great-grandchildren: Faith, Ozzy, Carma, Roman and Remi. Jo Ann also leaves her companion of 45 years, Richard "Rick" Potter of Bellflower; two sisters: Mildred Simpson of Elsberry and Edna Grindstaff and her husband, Donald, of Granite City, IL; several nieces, nephews, other relatives and many friends.
Visitation will be held from 12:00 noon until time of the service at 2:00 p.m. at Carter-Ricks Funeral Home in Elsberry. Memorials may be made to the Family of Jo Ann Howarth in care of Carter-Ricks Funeral Home, 107 S. 5th Street; Elsberry, MO 63343. Online condolences may be made at www.carterricksfuneralhome.com.