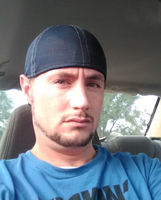 Joshua Eugene "Josh" Suddarth
Funeral Services for Joshua Eugene Suddarth of Elsberry, MO will be held at 2:00 p.m. Saturday, March 9, 2019 at Carter-Ricks Funeral Home in Elsberry. Rev. Stephen McLane, pastor of New Hope Baptist Church near Elsberry, will officiate with burial in Star Hope Cemetery near Elsberry. Serving as pallbearers will be James Suddarth, Mariah Suddarth, Jeff Cohoon, Jamie Suddarth, Chas Cohoon, Brian Ratliff, Matt Ratliff, TJ Presley, Jared Stone, Buddy Alsop, Dean Read and Danny Oberkrom.

Josh, 33, passed away Thursday night, March 7, 2019 at SSM DePaul Hospital in Bridgeton, MO. Josh donated several organs, saving at least three other lives. Born June 21, 1985 in Troy, MO, he was the son of James Allen Suddarth and Janie Annette Ratliff Suddarth. Josh was employed as a laborer.

Josh was preceded in death by his paternal grandparents, Howard and June Suddarth; maternal grandfather, James Ratliff; and one brother, Justin Suddarth.

Survivors include three children: Ethan, Caleb and Alivia Suddarth of Winfield, MO; his parents, Janie & Jeff Cohoon and Jamie Suddarth, all of Elsberry; one brother, James Suddarth and his wife, Chelsey, of Elsberry; four sisters: Kristy Ratliff of Winfield, MO, Misty Alsop and her husband, Buddy, of Moscow Mills, MO, Amanda Stone and her husband, Jared, of Troy and Mariah Suddarth and her fiancé, TJ Presley, of Chicago, IL; one step-brother, Chas Cohoon of Whiteside, MO; and step-sister, Camree Cohoon of Hopkinsville, KY. Josh also leaves several nieces, nephews, other relatives and friends.
Visitation will be held from 10:00 a.m. until the time of Funeral Services at 2:00 p.m. Saturday, March 9, 2019 at Carter-Ricks Funeral Home in Elsberry. Memorials may be made to the Family of Josh Suddarth in care of Carter-Ricks Funeral Home, 107 S. 5th Street; Elsberry, MO 63343.