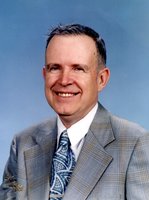 Robert Jack Schnelle
Funeral Services for Robert Jack Schnelle of Elsberry, MO will be held at 2:00 p.m. Sunday, March 10, 2019 at Carter-Ricks Funeral Home in Elsberry. Burial will be in the Elsberry City Cemetery near Elsberry. Serving as pallbearers will be his family and friends.

Mr. Schnelle, 85, passed away Tuesday night, March 5, 2019 at Progress West Hospital in O'Fallon, MO. Born November 13, 1933 in Unionville, MO, he was the son of E.J. and Doris Mullins Schnelle. Bob served his country in the United States Air Force. He was united in marriage on August 24, 1956 in Scottsdale, AZ to Evelyn Anne Laughlin. This union was blessed with four children: Steven, Mark, Herb and Eileen. Bob worked as a salesman for Forrest Keeling Nursery for 30 years.

Bob was preceded in death by his parents, E.J. and Doris Schnelle; his brother, Bill Schnelle; his brother-in-law, Warner Bunch; and his beloved wife of 36 years, Evelyn Schnelle, who died September 2, 1992.

Survivors include his children: Steven Schnelle and his wife, Michele, of Pittsburgh, PA, Mark Schnelle and Betty Collins, of Lee's Summit, MO, Herb Schnelle of Indianapolis, IN and Eileen Schnelle of St. Peters, MO; two grandchildren: Jaclyn Charie and her husband, Stan, and Brad Schnelle and his wife, Jenna; and two great-grandchildren: Carson and Juliette Charie. Bob also leaves his sister, Carol Bunch of Cameron, MO; sister-in-law, Mary Schnelle of Unionville, MO; nieces, nephews, other relatives and friends.
Visitation will be held from 12:00 noon until the time of Funeral Services at 2:00 p.m. Sunday, March 10, 2019 at Carter-Ricks Funeral Home in Elsberry. Memorials may be made to the Charity of the Donor's Choice in memory of Robert Schnelle in care of Carter-Ricks Funeral Home, 107 S. 5th Street; Elsberry, MO 63343.