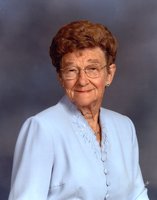 Patricia Marie Westhoff
A Mass of Christian Burial for Patricia Marie "Pat" Westhoff of Old Monroe, MO will be held at 10:00 a.m. Thursday, March 7, 2019 at Immaculate Conception Catholic Church near Old Monroe. Father Richard Rath, church pastor, will officiate with burial on Immaculate Conception Cemetery near Old Monroe. Serving as pallbearers will be Craig Westhoff, Chad Westhoff, Scott Deterding, Luke Deterding, Denny Niederer and David Heppermann.

Mrs. Westhoff, 92, passed away early Sunday morning, March 3, 2019 at Lincoln County Nursing & Rehab in Troy, MO. Born November 25, 1926 in St. Paul, MO, she was the daughter of William and Berniece Tayon Menne. Pat was united in marriage on September 6, 1950 in Flint Hill, MO to Harold Francis Westhoff. She was a member of Immaculate Conception Catholic Church near Old Monroe and the Ladies Sodality. She was involved in many church activities, quilting and helped prepare funeral meals and fellowship dinners.

Pat was preceded in death by her parents, William and Berniece Menne; her beloved husband, Harold Westhoff; two brothers: Martin Menne and Bob Menne; three sisters: Mary Niederer, Jane Reininger and Virginia Jumper; her daughter, Marcia Deterding; and one great-granddaughter, Maggie Boschert.

Survivors include one son, Darrell Westhoff and his wife, Vicki, of Old Monroe; eight grandchildren: Craig Westhoff, Melitta (Gary) Shields, Cary (Art) Boschert, Chad (Kaitlyn) Westhoff, Angela Deterding, Scott (Krystal) Deterding, Deanne Deterding and Luke Deterding, and nine great-grandchildren: Lucy Boschert, Morgan Shields, Lily Boschert, Jordan Shields, Bailey Shields, Wade Boschert, Lori Boschert, Laura Deterding and Mason Westhoff. Pat also leaves two brothers: Bernard Menne and his wife, Marilyn, of Troy, and Pierre Menne and his wife, Barb, of St. Charles, MO; several in-laws, nieces, nephews, other relatives and many friends.

Visitation will be held from 4:00 - 8:00 p.m. Wednesday, March 6, 2019 at Carter-Ricks Funeral Home in Winfield, MO; and from 9:00 a.m. until time of the Funeral Mass on Thursday, March 7, 2019 at Immaculate Conception Church. Memorials may be made to Masses or to the Immaculate Conception Building Fund in care of Carter-Ricks Funeral Home , 3838 East Highway 47, P.O. Box 253, Winfield, MO 63389.