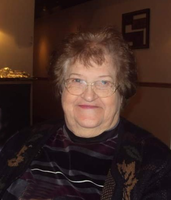 Persia Lucille "Polly" Gilbert
Funeral Services for Persia Lucille Gilbert of Elsberry, MO will be held at 10:00 a.m. Thursday, February 21, 2019 at Carter-Ricks Funeral Home in Elsberry. Rev. Jimmy Lee Gilbert of Poplar Bluff, MO, will officiate with burial in the Elsberry City Cemetery near Elsberry. Serving as pallbearers will be Stephen Gilbert, Jimmy Pruitt, Travis Pruitt, Cody Cox, Adam Hantle and Donald "Tec" Parr.

Persia, known as "Polly", 85, went to be with our Lord and Savior on Monday, February 18, 2019. Born July 14, 1933 in Sikeston, MO, she was one of seven children born to Estle and Pansey Ione Shyrock Saulsbery. Persia moved from Sikeston to St. Louis, MO, securing a job at Woolworth's in the 1950's. She was united in marriage on February 26, 1955 in Poplar Bluff to Harold Clifton Gilbert. They were blessed with four children: Eddie Lee, Charlotte Marie, Robert Duane and Margaret Ione. The family moved to Elsberry in the 1960's. Persia's time was spent as a mother and housewife for many years, devoted to the family unit. By the early 1970's, Persia re-entered the workplace at Sunset Nursing Home in Elsberry, working as a cook and nurse's aide. In 1976, Persia earned her GED. She later worked for the Elsberry Health Care Center as a certified nurse's aide and certified medication technician, retiring in November of 1995.

Over the years, Persia enjoyed raising her children and caring for the grandchildren as well. She was a skilled seamstress and gifted with making a variety of crochet items, including: bed dolls, table runners, doilies, as well as namesake vintage items. As news events unfolded at the national or local level, Persia scrapbooked it. She included photos and newspaper clippings that covered flooding disasters. In her spare time, she composed poetry reflecting her life's journey. Persia was active with the Elsberry Senior Citizen's Center where she served as secretary for several years. She enjoyed country and gospel music, and liked hearing local bands perform.

Persia Lucille Gilbert's life was blessed and filled with love of family, placing God at the forefront. As a Christian she raised her children to know the love and sacrifice of Jesus Christ. Her childlike faith in Jesus was an encouragement to all of us, and Persia is surely in the presence of our Lord for eternity.

Persia was preceded in death by her parents, Estle and Pansey Saulsebery; her beloved husband of 45 years, Harold Gilbert, who died on August 13, 2000; one son, Ed Gilbert; her son-in-law, David Cox; three brothers: Estle Eugene, George Ronald and Pearl Edward Saulsbery; and one sister, Rosalie Ione Emerson Kincaid.
Survivors include three children: Charlotte Cox of Nixa, MO, Robert Gilbert and his wife, Maria, of Elsberry and Margaret "Missy" Pruitt, also of Elsberry; ten grandchildren: Amber, Kayleigh, Kelli, Cody, Stephen, Kimmy, Nikki, Sara, Jimmy and Travis; eight great-grandchildren: Connor, Issac, Liberty, Ava, Alexis, Austin, Lilli and Peyton; and expecting the ninth great-grandchild later this year. Persia also leaves one brother, Charles Beverly Saulsbery and his wife, Fern, of Fort Smith, AR; many nieces, nephews, other relatives and friends.
Visitation will be held from 4:00 - 8:00 p.m. Wednesday, February 20, 2019 at Carter-Ricks Funeral Home in Elsberry. Memorials may be made to the Elsberry Senior Citizen's Center in care of Carter-Ricks Funeral Home, 107 S. 5th Street; Elsberry, MO 63343.