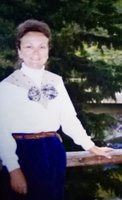 Mary Kathleen Bufford
Funeral Services for Mary Kathleen Bufford of Troy, MO will be held at 11:00 a.m. Saturday, January 26, 2019 at Carter-Ricks Funeral Home in Elsberry, MO. Rev. Kirk Bufford, Rev. Jonathan Goff, Rev. Robert Cassaday and Rev. Glenn Wakefield will officiate with burial in Thornhill Cemetery in Troy. Serving as pallbearers will be Darren Cassaday, Brent Lippmann, Bob Walters, Shawn Streker, Josh Kennon and Michael Beasley.

Mrs. Bufford, 70, passed away Wednesday afternoon, January 23, 2019 at her home in Troy. Born March 10, 1948 in Detroit, MI, she was the daughter of Wilbur "Stanley" and Florence "Corky" Thomas Hartsell. Mary earned her GED in 1971. She was united in marriage on June 3, 1989 in Elsberry to Kirk Bufford. Their home was blessed with three children: Kenneth Wayne, Jr., Karen Lea and Kelly Jo.

Mary earned her LPN degree from Pike-Lincoln Technical School in 1981. She worked as an LPN at Lincoln County Medical Center in Troy from 1981-1989. She later earned her RN degree from Moberly Junior College in 1992. Mary worked as an RN in Outpatient Surgery for Pike County Memorial Hospital, retiring in September of 2013. Mary loved serving others; including taking 12 Mission trips to Mexico, 2 to Kenya, 2 to Panama and 1 to the Philippines.

Mary was preceded in death by her parents, Stanley and Corky Hartsell; and four brothers: Norman, Fred and Wilbur Hartsell and one as an infant.

Survivors include her beloved husband of 29 years and 7 months, Kirk Bufford of Troy; three children: Kenneth Arcand, Jr. and his wife, Patti, of Chicago, IL, Karen Cassaday and her husband, Rev. Robert Cassaday, of Vandalia, MO and Kelly Walters and her husband, Bob, of Troy; ten grandchildren and eighteen great-grandchildren. Mary also leaves three sisters: Fran Hartsell-Dryden of Elsberry, Charlene Yake, and her husband, Wayne, of Port Huron, MI, and Dorothy Bloomer and her husband, Dave, of Lawton, OK; many nieces, nephews, other relatives and friends.
Visitation will be held from 4:00 - 8:00 p.m. Friday, January 25, 2019 at Carter-Ricks Funeral Home in Elsberry. Memorials may be made to the Bowling Green Apostolic Lighthouse Church for Missions in care of Carter-Ricks Funeral Home, 107 S. 5th Street; Elsberry, MO 63343.