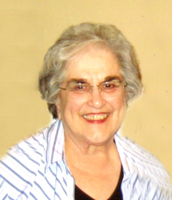 Loretta Ann Harke
A Mass of Christian Burial for Loretta Ann Harke of Old Monroe, MO will be held at 11:00 a.m. Wednesday, September 19, 2018 at Immaculate Conception Catholic Church near Old Monroe. Father Richard Rath, church pastor, will officiate with burial in the Immaculate Conception Cemetery. Serving as pallbearers will be Glen Harke, Luke Harke, Tom Vogelgesang, Dan Vogelgesang, Keith Vogelgesang and Ron Sommer.

Mrs. Harke, 83, passed away early Sunday morning, September 16, 2018 at her home near Old Monroe. Born January 24, 1935 in St. Charles, MO, she was the daughter of Eugene and Barbara Menz Vogelgesang. She was a graduate of Assumption High School. Loretta was united in marriage on September 5, 1955 in St. Paul, MO to Harold Alphonse Harke. This union was blessed with three children: Jeff, Paula and Elaine. Loretta worked as a sales clerk and clothing fitter for Finley Shoe Store; and later as a sales clerk for Famous-Barr. She also worked as a bookkeeper for the family business, Lincoln County Construction. Loretta was an avid card player. She loved to volunteer, travel and go shopping. She was a longtime member of Immaculate Conception Catholic Church, which she loved dearly along with her family.

She was preceded in death by her parents, Eugene and Barbara Vogelgesang; two sisters: Sr. Barbara Jeanne Vogelgesang and Barbara Sommer and her husband, Andrew; four brothers: Leonard, Kenneth, Eugene and Richard Vogelgesang; and one granddaughter, Amanda Harke-Owings.

Survivors include her beloved husband of 63 years, Harold Harke of Old Monroe; their children: Jeff Harke and his wife, Theresa, of Old Monroe, Paula Blechle and her husband, Dan, of St. Paul and Elaine Harke and her wife, Rosie, of St. Charles, MO; five grandchildren: Ryan Blechle and his wife, Katie, Michael Blechle and his fiancé, Alyssa, Paige Westhoff and her husband, Eric, Lexie Schneider and her husband, Ben and Bailey Harke; and five great-grandchildren: Parker and Eva Westhoff, Augie Blechle, and Corbin and Jaxon Owings. Loretta also leaves two brothers: Charles Vogelgesang and his wife, Alice, of St. Paul and Ralph Vogelgesang and his wife, Donna, of Winfield, MO; five sisters-in-law: Dorothy Vogelgesang, MaryKay Vogelgesang, Sharon Vogelgesang, Betty Harke and Shirley Harke; many nieces, nephews, other relatives and friends.

Visitation will be held from 9:00 a.m. until the time of Funeral Mass at 11:00 a.m. Wednesday, September 19, 2018 at Immaculate Conception Catholic Church. Memorials may be made to the Immaculate Conception School Fund (or) Lewy Body Dementia Association in care of Carter-Ricks Funeral Home , 3838 East Highway 47, P.O. Box 253, Winfield, MO 63389.