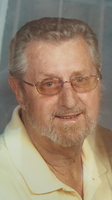 Glennon Virgil Kersting, Jr.
A Mass of Christian Burial for Glennon Virgil Kersting, Jr. of Old Monroe, MO will be held at 10:00 a.m. Friday, August 3, 2018 at Immaculate Conception Catholic Church near Old Monroe. Fr. Richard Rath, church pastor, will officiate with burial in the Immaculate Conception Cemetery.

Mr. Kersting, 80, passed away Monday evening, July 30, 2018 at SSM St. Joseph Hospital in Lake St. Louis, MO. Born July 8, 1938 in Wentzville, MO, he was the son of Glennon J. and Viola Rottger Kersting, Sr. Glennon was united in marriage on January 9, 1960 in Old Monroe to Elizabeth Marie Parr. This union was blessed with two children: Tim and Tracy. Glennon worked as a local truck driver for Mueller Brothers, Old Monroe Elevator and later S & H Transportation where he retired in 2000. Glennon was a longtime member of Immaculate Conception Catholic Church.

He was preceded in death by his parents, Glennon and Viola Kersting, Sr.; and two brothers: Linus Kersting and Virgil Kersting.

Survivors include his beloved wife of 58 years, Elizabeth Kersting of Old Monroe; their children: Tim Kersting and his wife, Misty, and Tracy Harke and her husband, Eric, all of Old Monroe; five grandchildren: Rachel Harke and her fiance, Kevin Bennett, Megan Preston and her husband, David, Damon Kersting and his wife, Karissa, Alex Kersting and Samantha Kersting; and eight great-grandchildren: Caitlynn Williams, Kaylie Williams, Kevin Bennett, Jr., Cain Bennett, Peyton Preston, Aleana Preston, Bryant Preston and Tristan Kersting. Glennon also leaves two brothers: Arthur Kersting and his wife, Doris, of Lake St. Louis and Harry Kersting and his wife, Bev, of Wentzville, MO; many nieces, nephews, other relatives and friends.

Visitation will be held from 4:00-8:00 p.m. Thursday, August 2, 2018 at Carter-Ricks Funeral Home near Winfield, MO. Memorials may be made to the IC Building Fund in care of Carter-Ricks Funeral Home , 3838 East Highway 47, P.O. Box 253, Winfield, MO 63389.