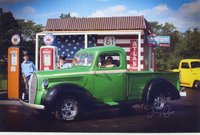 Dennis Allen Saunders
Dennis Saunders
Funeral Services for Dennis Allen Saunders of Winfield, MO will be held at 6:00 p.m. Wednesday, August 1, 2018 at Calvary Chapel-Troy (28 Snyder Road; Troy, MO), with Rev. Wes Denham, church pastor, officiating. A graveside service will be held at 10:00 a.m. Thursday, August 2, 2018 at Whispering Winds Cemetery near Winfield. Serving as pallbearers will be John Riney, Derek Howard, Chris Cichon, Sam Saunders, Nick Howard and Mike White.
Mr. Saunders, 73, passed away Saturday evening, July 28, 2018 at his home near Winfield with his family by his side. Born October 16, 1944 in West Frankfort, IL, he was the son of Clay and Marie Thompson Saunders. Dennis was a 1962 graduate of West Frankfort High School. He was united in marriage in May, 1962 in Benton, IL to Merry Louise Reed. Dennis went to work for McDonnell Douglas aircraft manufacturer in 1964. After just eleven years of marriage, Merry passed away on October 16, 1974. Dennis was married again on March 21, 1975 in Troy, MO to Virginia Lee Nelson. He continued to work as a kiln mill operator at McDonnell Douglas until he retired in March, 1997, after 33+ years of service. Dennis was a member of the machinist union, IAM, Local # 837 in St. Louis. Following his retirement, he worked for eight years as an assembler for Walmart in Troy.
He was preceded in death by his father, Clay Saunders, his mother, Marie Whaley and his step-father, Alvis Whaley; also preceding him in death were two brothers: Delbert Saunders and Donald Lee Saunders; and one grandson, Jimmy Mac Teel.
Survivors include his beloved wife of 43 years, Virginia Saunders of Winfield; three sons: Tom Saunders and his wife, Linda, of Foley, MO, Clancy White and his wife, Kristy, of DuQuoin, IL, and Mike White and his companion, DeeDee Mack, of Troy; three daughters: Denise "Dee" Livingston of Winfield, Ruth Teel and her husband, Joe, of West Frankfort, IL, and Brenda Gross and her husband, Scott, of Bellflower, MO; 14 grandchildren: Samuel Saunders, Kalyee Berry, Nicholas Howard, Derek Howard, Christopher Cichon, Stephanie Mackenberg, Heather Katenbraker, Stephen White, Joe Teel, Jr., Daniel Teel, Holly Williams, Rachel Pollard, Joshua Gross and David Gross; 26 great-grandchildren and two great, great-grandchildren. Dennis also leaves several nieces, nephews, in-laws, other relatives and many friends.
Visitation will be held from 4:00 p.m. until time of the service at 6:00 p.m. Wednesday, August 1, 2018 at Calvary Chapel-Troy. Memorials may be made to Uganda Jinja Orphanage in Africa through Calvary Chapel, 28 Snyder Rd., Troy, MO 63379 or in care of Carter-Ricks Funeral Home, 3838 East Highway 47, P.O. Box 253, Winfield, MO 63389. Online condolences may be made at www.carterricksfuneralhome.com.