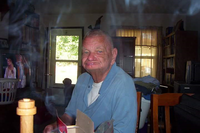 ~~~William Irvin "Popcorn Bill" Kierski
Graveside Services for William Irvin "Popcorn Bill" Kierski of Elsberry, MO will be held at 2:00 p.m. Saturday, July 21, 2018 at the Elsberry City Cemetery near Elsberry. J. Larry Carter of Carter-Ricks Funeral Homes will officiate. Serving as pallbearers will be Bob Kelly, Bill Kelly, Keith Gustazson, Keith Dameron, Kenneth Pennington, Donnie Kinsler, Dennis Morgan and Josh Kelly. Serving as honorary pallbearer will be Larry Wheeler.

Bill, 82, passed away Wednesday morning, July 18, 2018 at Mercy Hospital St. Louis in Creve Coeur, MO. Born November 5, 1935 in St. Louis, he was the son of Nathan Steve and Julia May Teefler Kierski. Bill was a longtime member of Sacred Heart Catholic Church in Elsberry. Bill's biggest thrill was popping popcorn at the American Legion Ballfields, earning his nickname of "Popcorn Bill."

Bill was preceded in death by his parents, Nathan and Julia Kierski; and one sister, Mary McCormick.

Survivors include two sisters: Dorothy Thackery of Reno, NV and Frances Lucille Street of Rohnert Park, CA; his cousin, Robbie Pennington of St. Louis; and many nieces, nephews and other relatives. Bill also leaves his Guardians, Bill and Lil Kelly of Elsberry; and numerous other friends and neighbors.
Visitation will be held from 10:00 a.m. - 2:00 p.m. Saturday, July 21, 2017 at Carter-Ricks Funeral Home in Elsberry. Fr. Charles Tichacek, pastor of Sacred Heart Catholic Church will lead a prayer at 10:30 a.m. Memorials may be made to Page Branch Park (where Bill loved to watch people enjoy the community) or the Charity of the Donor's Choice in care of Carter-Ricks Funeral Home, 107 S. 5th Street; Elsberry, MO 63343.