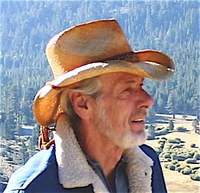 Jerald Robert Stone
Private Services for Jerald Robert Stone of St. Peters, MO will be held at 11:00 a.m. Thursday, July 12, 2018 at Carter-Ricks Funeral Home in Elsberry, MO. Burial will follow in the Elsberry City Cemetery near Elsberry with Full Military Honors.
Mr. Stone, 76, passed away Monday afternoon, July 9, 2018 in St. Charles, MO. Born August 21,1941 in St. Louis, MO, he was the son of Brewis Henry and Mildred Marietta Martin Stone. Jerald attended Marvin Grade School, Ritenour High School and later Washington University. Jerald served his country in the United States Marine Corps from October 1, 1958 until he was honorably discharged on September 29, 1961. He was employed as a cabinet maker for a number of years. Jerald was a member of the American Institute of Bankers and Mensa.
Jerald was preceded in death by his parents, Brewis and Mildred Stone.
Survivors include his children: Pam Mooney and her husband, Todd, of St. Charles, Raymond "Kent" Stone of San Francisco, CA, Jeremy Stone of Calabasas, CA, Melanie Stone of Long Beach, CA, Sarah Morrison and her husband, Daniel, of Hanford, CA and Joshua Stone and his wife, Samantha, of Monterey, CA; and three grandchildren: Marcus Chinery, Jacob Chinery and Bridget Mooney. Jerald also leaves one sister, Sandra Bray of St. Charles; his aunt, Bonnie Weeks of St. Charles; two nieces: Susan Reeves and Sheri Rodkey; other relatives and friends.
Visitation will be held from 10:00 a.m. until the time of Funeral Services at 11:00 a.m. Thursday, July 12, 2018 at Carter-Ricks Funeral Home in Elsberry. Memorials may be made to Operation Gratitute (or) The Injured Marine Semper Fi Fund in care of Carter-Ricks Funeral Home, 107 S. 5th Street; Elsberry, MO 63343.