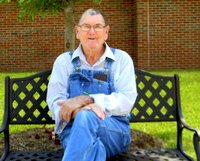 Thomas Eugene "Tommy" Hunter
Funeral Services for Thomas Eugene "Pops" Hunter of Elsberry, MO will be held at 2:00 p.m. Monday, June 18, 2018 at Carter-Ricks Funeral Home in Elsberry. Greg Pflasterer of First Baptist Church in Elsberry, will officiate with burial in Star Hope Cemetery near Elsberry. Serving as pallbearers will be Mike Shuford, Ray Seidel, Zachary Seidel, Ed Wheeler, Bruce Stewart and Rich Grimshaw. Honorary pallbearers will be Braedan Seidel, Kelsey Shuford, Cecelia Rosauer and Alice Rosauer.

Mr. Hunter, 92, passed away Sunday afternoon, June 3, 2018 at the Elsberry Health Care Center near Elsberry. Born May 19, 1926 in Foley, MO, he was the son of Wesley L. and Cora E. Leffert Hunter. Tommy served his country in the United States Army. He was united in marriage on September 11, 1948 at Star Hope Baptist Church to Helen Darlene Ray. This union was blessed with two children: Michael and Karen. Tommy was a lifelong farmer and worked as an ironworker for C. Rolla, retiring in June of 1988.

Tommy was preceded in death by his birth parents, Wesley and Cora Hunter; his parents who raised him, Genevieve and Lyman Burger; three brothers: Charles and James Hunter and Robert Hunter who died as a child; six sisters: Fannie Rimel, Eva Hagen, Evelyn Hunter, who died as a child, Myrtle Ellis, Viola Watkins and Violet Watkins; his son, Michael Ray Hunter, who died in 1971; and his beloved wife of 64 years, Helen Hunter, who died January 22, 2013.

Survivors include his daughter, Karen Shuford Smith and her husband, Bob, of Elsberry; three grandchildren: Kristy Seidel and her husband, Ray, of Aurora, IL, Mike Shuford and his wife, Stacy, of Elsberry and Molly Rosauer and her husband, Joel, of Marion, IA; and five great-grandchildren: Zachary and Braedan Seidel, Kelsey Shuford, and Cecelia and Alice Rosauer.
Visitation will be held from 10:00 a.m. until the time of Funeral Services at 2:00 p.m. Monday, June 18, 2018 at Carter-Ricks Funeral Home in Elsberry. Memorials may be made to the Alzheimer's Association (or) the Central Missouri Honor Flight in care of Carter-Ricks Funeral Home, 107 S. 5th Street; Elsberry, MO 63343.