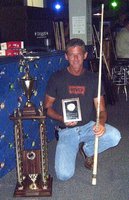 Richard Lee Spies
Funeral Services for Richard Lee Spies of Elsberry, MO will be held at 11:00 a.m. Saturday, March 24, 2018 at Carter-Ricks Funeral Home in Elsberry. Rev. Charles Moore, pastor of Noix Creek Baptist Church in Louisiana, MO, will officiate with burial in the Elsberry City Cemetery near Elsberry. Serving as pallbearers will be Dwayne Spies, Bob Manning, Nick Fernandez, Caleb Spies, Jeff Harrison and Bob Harrison.

Rick, 53, passed away Saturday night, March 17, 2018 at his home in Elsberry. Born March 22, 1964 in Sunnyvale, CA, he was the son of Edward Eugene and Loretta Martin Spies. He was a graduate of Elsberry High School. Rick worked as a general contractor for AVMATS. Rick loved shooting pool, golfing, deer hunting and riding his motorcycle.

Rick was preceded in death by one brother, Stephen Spies.

Survivors include his children: Brandon Spies of Elsberry and Angelina Marie Spies of Springfield, MO; and one grandchild, Payge Roper. Rick also leaves his parents: Gene Spies and his wife, Jane, and Loretta Spies, all of Elsberry; three brothers: Michael Spies and his wife, Virginia, of Elsberry, Mark Spies of Biloxi, MS and Caleb Spies of Elsberry; two sisters: Kerry Banaszek and Rebecca Timms, both of Elsberry; many nieces, nephews, other relatives and friends.
Visitation will be held from 4:00 - 8:00 p.m. Friday, March 23, 2018 at Carter-Ricks Funeral Home in Elsberry. Memorials may be made to the Charity of the Donor's Choice in care of Carter-Ricks Funeral Home, 107 S. 5th Street; Elsberry, MO 63343.