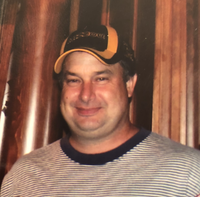 Philip Jerome Harke
Funeral Services for Philip Jerome "Phil" Harke of Old Monroe, MO will be held at 10:00 a.m. Thursday, March 22, 2018 at Immaculate Conception Church near Old Monroe. Father Richard Rath, church pastor, will officiate with burial in Immaculate Conception Cemetery near Old Monroe. Serving as pallbearers will be Steve Hermann, Jim Harke, Andrew Keeteman, Kevin Keeteman, Jeff Leverenz and Craig Westhoff.

Mr. Harke, 53, passed away Saturday afternoon, March 17, 2018 at the family farm. Born January 26, 1965 in Troy, MO, he was the son of Earl Jerome and Elizabeth Jane "Betty" Molitor Harke. He was a 1983 graduate of St. Dominic High School in O'Fallon, MO. A lifelong resident of the Old Monroe area, he was self-employed as a farmer. Phil served on the Board of the Lincoln County Coop and on the FSA Board. He was a member of Immaculate Conception Catholic Church near Old Monroe. Phil was an avid fisherman, and enjoyed putting on fish frys for family and friends.

Survivors include his parents, Earl and Betty Harke of Old Monroe; and two sisters: Lynn Keeteman and her husband, Dean, of Wright City, MO, and Ellen Flake and her husband, Timothy, of Warrenton, MO. Known as "Uncle Till" to his nieces and nephews: Kathleen (Kyle) McCoy, Amanda (Sebastian) Foeller, Kevin Keeteman, Andrew Keeteman, Ben Flake, Abby Flake and Erin Flake; he also leaves several cousins, other relatives and many friends.

Visitation will be held from 3:00 – 8:00 p.m. Wednesday, March 21, 2018 at Carter-Ricks Funeral Home near Winfield. Memorials may be made to American Heart Association in care of Carter-Ricks Funeral Home , 3838 East Highway 47, P.O. Box 253, Winfield, MO 63389.