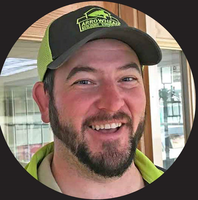 Charles Richard "Chip" Huckstep
Funeral Services for Charles Richard "Chip" Huckstep of Winfield, MO will be held at 11:00 a.m. Friday, April 6, 2018 at Carter-Ricks Funeral Home near Winfield. Rev. Brian Andrews, pastor of Amazing Grace Baptist Church in O'Fallon, MO, will officiate. Serving as honorary pallbearers will be Kyle Stahlschmidt, Nickolas Huckstep, Buddy (Don) Creech, Joe Huckstep, Mike Swofford, Logan Swofford, Cole Swofford, Bubba (Eric) Creech, Matt Roberts, Brandon Shafer, Matt Harmon and Phil Duffy.

Chip, 35, went home to be with the Lord on Monday, April 2, 2018. Born October 16, 1982 in Hannibal, MO, he was the son of William Joe and June Ann Allen Huckstep. Chip was a graduate of Highland Christian Academy. He was united in marriage on April 24, 2009 in Warrenton, MO to Danielle Marie Creech. Their home was blessed with six children: Alicia, Jordyn, Kyle, Nickolas, Ivy and Conner. Chip was a former carpenter for CCS and member of Carpenters Union Local #32. He was currently working as a salesman for Arrowhead Building Supply. Pastor Andrews of Amazing Grace Baptist Church was one of Chip's many mentors. Chip loved to laugh and cut up. He never knew a stranger. Chip's personality allowed him to talk to anyone on any level. He loved his children dearly, but his wife was his everything.

He was preceded in death by his mother, June Huckstep; his mother-in-law, Donna M. Creech; and his grandparents: Richard A. & Anna Louise Huckstep and Richard & June Allen.

Survivors include his wife, Danielle Huckstep of Winfield; and their children: Alicia (Stahlschmidt) Huckstep, Kyle (Stahlschmidt) Huckstep, Jordyn Huckstep, Nickolas Huckstep, Ivy Huckstep and Conner Huckstep, all of Winfield. Chip also leaves his father, Bill Huckstep and his wife, Diana, of Louisiana, MO; his sister: Christina Fawn "Tika" Swofford and her husband, Michael, of Troy, MO; his brother: Joseph W. Huckstep and his wife, Krystal, of Pittsfield, IL; his step-sister, Tanya Bergner (daughter of Diana Huckstep) and her husband, Steven, of Hillsboro, MO; two sisters-in-law: Dawn Farmer and her husband, Jon, of Arizona and Dana Bartels of Elsberry, MO; one brother-in-law and "bro-mance partner", Donald "Buddy" Creech and his wife, Carla, of Troy; several nieces, nephews, cousins, other relatives and friends.

Visitation will be held from 4:00-8:00 p.m. Thursday, April 5, 2018 at Carter-Ricks Funeral Home in Winfield, MO. Memorials may be made to The Family of Charles "Chip" Huckstep for the benefit of his children in care of Carter-Ricks Funeral Home , 3838 East Highway 47, P.O. Box 253, Winfield, MO 63389.