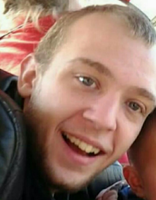 Jeffery James "JJ" Russell, Jr.
Memorial Services for Jeffery James Russell, Jr. of Winfield, MO will be held at 7:00 p.m. Saturday, March 31, 2018 at Carter-Ricks Funeral Home near Winfield. Rev. Mark Payne, Pastor of Calvary Chapel-Winfield, will officiate. Serving as honorary pallbearers will be Cody Gifford, Trevor Walcott, Joe Fox, Nick Thomas, Brendan Politte, Danny Payne, Jesse Thompson, Richie Weber and Cody Wheeler.

Jeffery, known as JJ, 23, passed away early Monday morning, March 26, 2018 near Wentzville, MO, the result of an automobile accident on highway 61. Born April 7, 1994 in Bridgeton, MO, he was the son of Jeffery James Russell, Sr. and Amy Arlene Russell Pyle. JJ was a 2012 graduate of Winfield High School. He was a former painter for Joseph Ward Painting and was currently a factory worker for Surge Staffing. JJ was a member of Painters District Council #2.

He was preceded in death by his maternal grandfather, James L. Gifford; grandmother, Marilyn Pyle; three uncles: James D. Gifford, Richard Biggs Russell and David Pyle; and one niece, Kaydence Hilborn.

Survivors include his parents: Mike and Amy Pyle, and Jeffery Russell, Sr., all of Winfield; and six sisters: Amanda "Mandi" Pyle of St. Louis, MO, Ashley Pyle of Cuba, MO, Aarin Pyle of Winfield, Katie Pyle of Winfield, Jaime Russell of Old Monroe and Jennifer Russell of Winfield. JJ also leaves his maternal grandmother, Rita Gifford of Old Monroe; paternal grandparents: William "Bill" and Virginia Russell of Winfield; his niece and nephews: Gabriel Hilborn, Jordan Hilborn, Sean Gwin, Jr., David Hollis, Maddy Hollis, Billy Johnson and Ethan Johnson; his God-siblings: Star and Cole Ingrassia; many aunts, uncles, cousins and friends.

Visitation will be held from 4:00 p.m. until the time of Memorial Services at 7:00 p.m. Saturday, March 31, 2018 at Carter-Ricks Funeral Home near Winfield. Memorials may be made to The Family of JJ Russell in care of Carter-Ricks Funeral Home , 3838 East Highway 47, P.O. Box 253, Winfield, MO 63389.