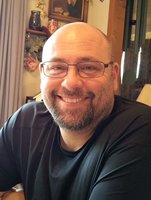 James Ray Roberts
Funeral Services for James Ray Roberts of Elsberry, MO will be held at 2:00 p.m. Sunday, March 18, 2018 at Carter-Ricks Funeral Home near Elsberry. Greg Pflasterer of the First Baptist Church of Elsberry will officiate with burial in the Elsberry City Cemetery near Elsberry. Serving as pallbearers will be Ryan Mills, Kevin Hill, Joe Vombey, Matt Hartley, Gary Wayne Stewart, Chad Cox, Ryan Anderson, Brian Cordsiemon, and John Behringer.
James, 41, passed away Wednesday evening, March 14, 2018 at his home in Elsberry. Born October 15, 1976 in St. Charles, MO, he was the son of William J. Roberts and Judy Kay Mills. James was a 1995 graduate of Elsberry High School. He received his Associate Degree in Accounting from St. Charles Community College. James was employed as a computer technician and lead operator for GTE and Verizon. He later worked as a Floater in the Chassis Department for Chrysler and General Motors, and was a member of the Local UAW #2250. James Ray loved being a Daddy to his beloved son. He liked to golf and to go boating.
Survivors include his son, James Xavier Roberts of Troy, MO; and his parents: Judy Ivy of Elsberry and Bill Roberts and his wife, Bobbie, of Eureka, MO. James also leaves two sisters: Amanda Bernice Behringer of Elsberry and Katie Chapman and her husband, Michael, of Eureka; his paternal grandmother, Patricia V. Roberts of Troy; nieces, nephews, other relatives and many, many friends.
Visitation will be held from 4:00 - 8:00 p.m. Saturday, March 17, 2018 at Carter-Ricks Funeral Home in Elsberry. Memorials may be made to the Family of James Ray Roberts to be used towards Xavier's education in care of Carter-Ricks Funeral Home, 107 S. 5th Street; Elsberry, MO 63343.